Standard Modern 1340 Metal lathe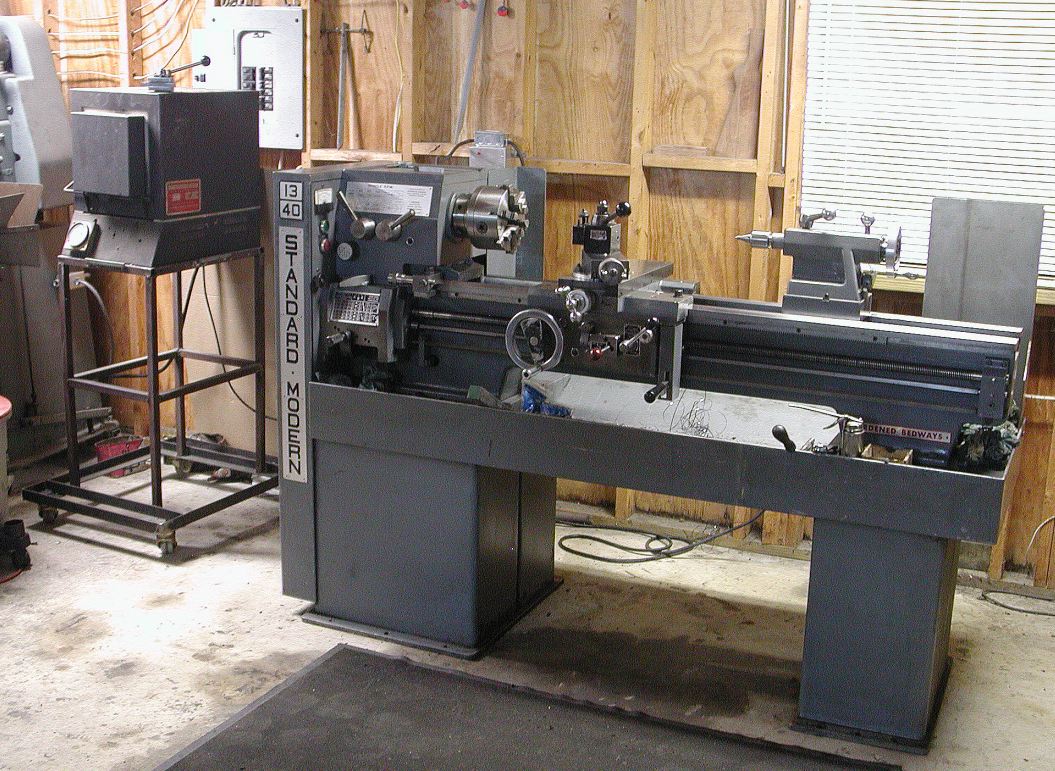 I started machine work back in the seventies working in the family business. It was very specialized in that it was primarily pump parts that were oil field related. Specifically ball and valve seat rebuilding. My father had worked in the oil field since the fifties and after working on drilling rigs for many years eventually started servicing wells. Over the years he built many contacts in the pump rebuild shops and started a side business of rebuilding stainless, alloy and carbide balls and valve seats. Along the way he took in some lathe work for parts like machining the cage the ball and seat went in and brass shear pins. From what I can remember the shear pins were about a 5/8th threaded pin with a slot cut across the face for installation. It's the main thing I remember from those days because it was my first introduction to the metal lathe. I showed a interest and he put me to work ;-) I was about ten or eleven when I first cut threads on those brass rods. I can still remember the feeling of satisfaction of making my first part on that old Atlas lathe. My father showed me how to read the hand dials, read a micrometer and set up the compound at 29.5 degrees to thread the shaft. He probably doesn't remember teaching me everything he taught me back then but I retained most of it. From the lathe to heat treating and even working on cars and trucks. When I hit high school he got me in the metal trades classes with Mr. Kammerdeiner in Natchez, MS. Most of what he taught was welding but did put some of us on the lathes he had on hand. They had three or four smaller lathes and one large Colchester Clausing. He let me and friend of mine build a cannon on the Colchester. I doubt much of that goes on anymore ;-) With all that said those classes introduced me to higher quality lathes. Even as beat as the smaller lathes were they cut well and were rigid.

When I got into spring guns back in the early nineties it was just a matter of time that I would be making parts and modifying them. I was at that time a full time ASE master certified auto mechanic. Fixing stuff was in my blood and the need to "improve on" was a throw back from my hot rodding days. I called my Dad and he put me in contact with a business acquaintance that was down sizing and wanted to sell his Atlas cabinet model. Drove all the way to Longview TX from Brookhaven MS to pick it up. Nice as it was it wasn't near as solid as I needed for the hot roll drops a friend was giving me :-) I made the move to the Memphis area back in 1998 and sold the Atlas before moving. I then picked up a nine inch South Bend from a local machine shop. Nice lathe, very precise but it didn't like it when I threw large pieces of metal it way unless I babied it. I picked up a Logan 11 inch lathe as a back up from Jim Maccari not much after that. I traded him out of it and we met in Durham, NC and did the swap. I then sold the Logan to buy a Grizzly 12X36. Decent enough machine and it came well tooled. Picked up a couple of really large Southbends along the way as well. I later replaced the grizzly with a Taiwan built 14X40 lathe that I still have today. I just sold off a 24X80 Southbend just a few month's back and the lathe this article is about is the one that replaced it.

Over the last couple of years I've been wanting to get something along the lines of one of the American made lathes I ran back in high school. The Asian built lathes can certainly pay for themselves but they tend to have a lot of flex in the apron and cross slide on heavy cutting, threading and especially parting off. I really didn't want another lathe with a flat belt so I settled on hunting down a Standard Modern lathe. They are geared head and built to last and are made in Ontario Canada. I initially wanted to pick up a 11X20 Standard Modern but didn't have much luck finding a decent one. Standard Modern's primary customers have been the US and Canadian military so a lot of them can show up on government auctions north and south of the border but I didn't have much luck there either. You can find a few 1334 models around but the 1340 is a heavier floor model that is a little more rigid than the 1334 but not as common from what I can tell. I lucked up and found one on Ebay though. Probably paid too much for it ;-) but I was tired of the hunt. It was incredibly nasty and well used. The headstock was nice and quiet and the bed didn't have any major wear but the cross slide feed screw and nut were worn completely out, also the motor sounded like it had gravel in it. The lathe chuck had .020 run out and the tail stock was so far out of adjustment that it would cut a ten thousandths taper on a work piece as short as three inches. The last owner probably didn't need much accuracy doing whatever he was doing with it from what I could tell.

So here's my story...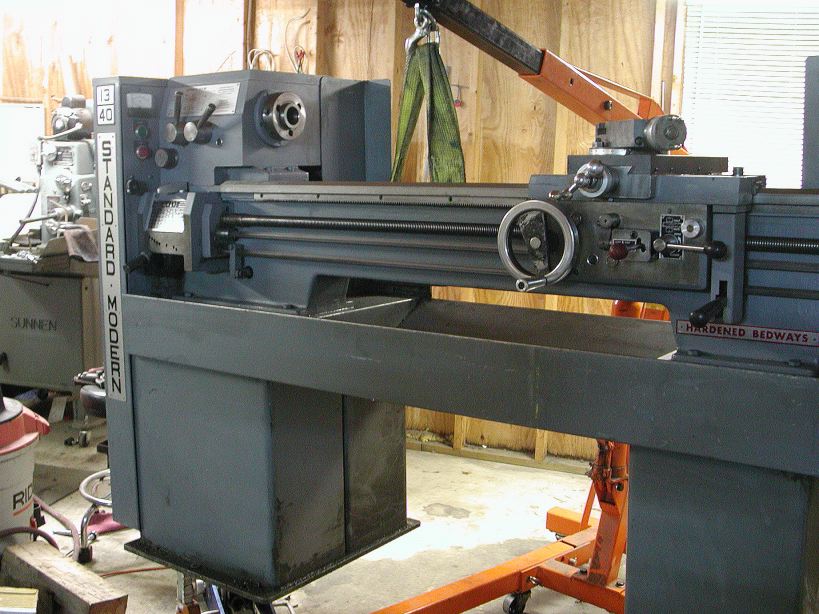 This is right after being being unloaded off the flat bed and into the shop. I actually had spent four hours cleaning before unloading it when this shot was taken. You can see what it looked like before by looking at the base.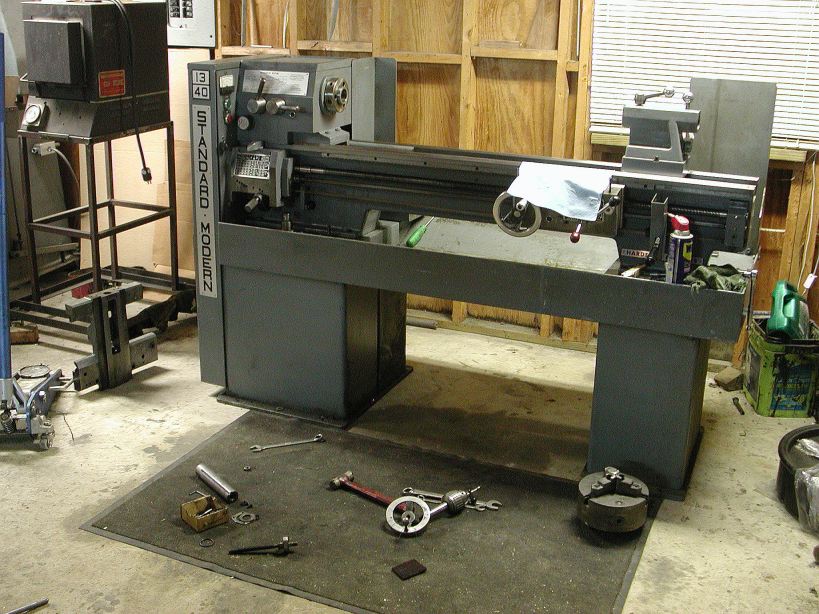 At this point I'm starting the tear down. The cross slide was full of grit and had never been oiled. The feed holes from the Git oilers were plugged solid. I was amazed that the cross slide nut and screw was the only thing with wear.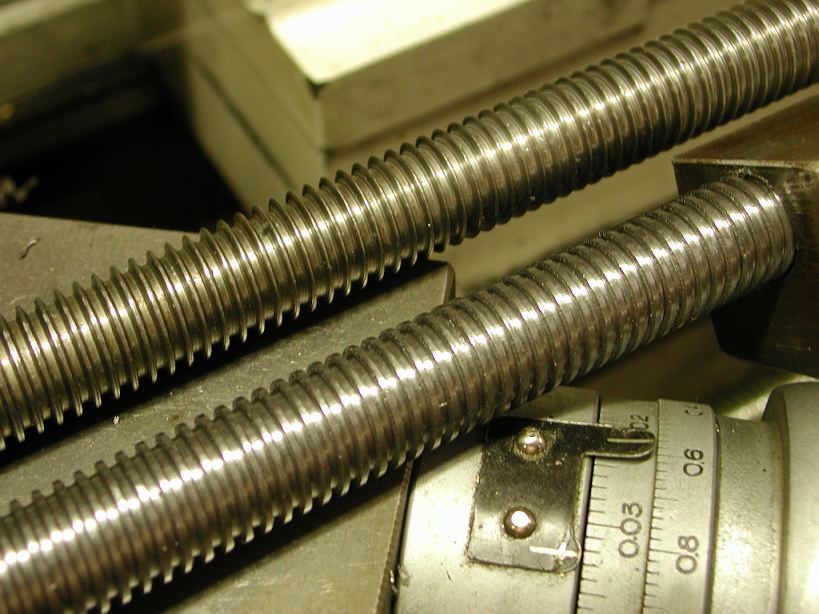 The top screw is the original the bottom was a test run I did on my Birmingham 1440 out of 12L14 steel I had laying around. I hadn't cut Acme threads before so I wanted to do a test run. The one I made next and used was made from 4140 steel.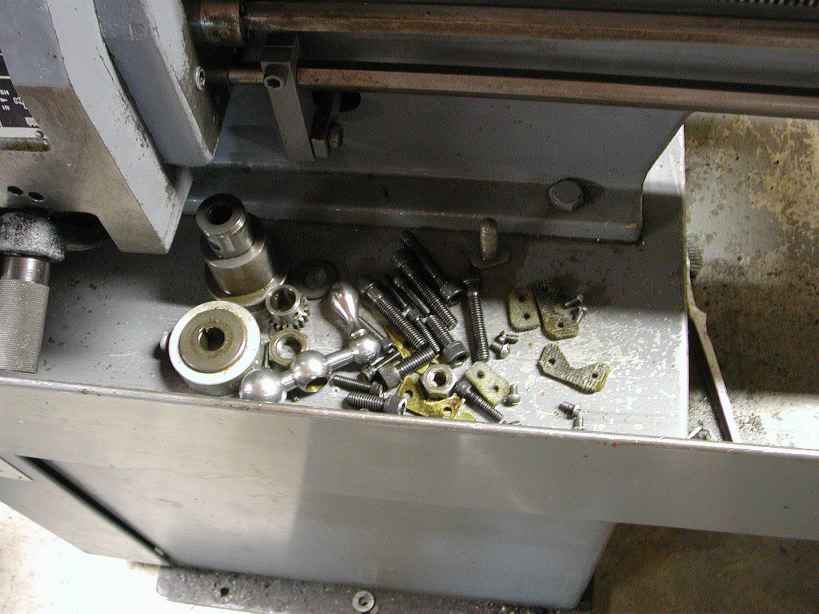 Here's the parts from the cross slide. The previous owner had only one t-bolt holding the compound. The other was broken off flush.




This is the carriage re-installed after a thorough cleaning. The discoloration's you see are from the oil distribution recesses machined into the cross slide. Every time the cross slide was left in one spot to long it would stain from the oil getting old and hard in that one spot. There wasn't any wear though. I really should have taken more before pictures ;-) It looked really really bad before cleaning.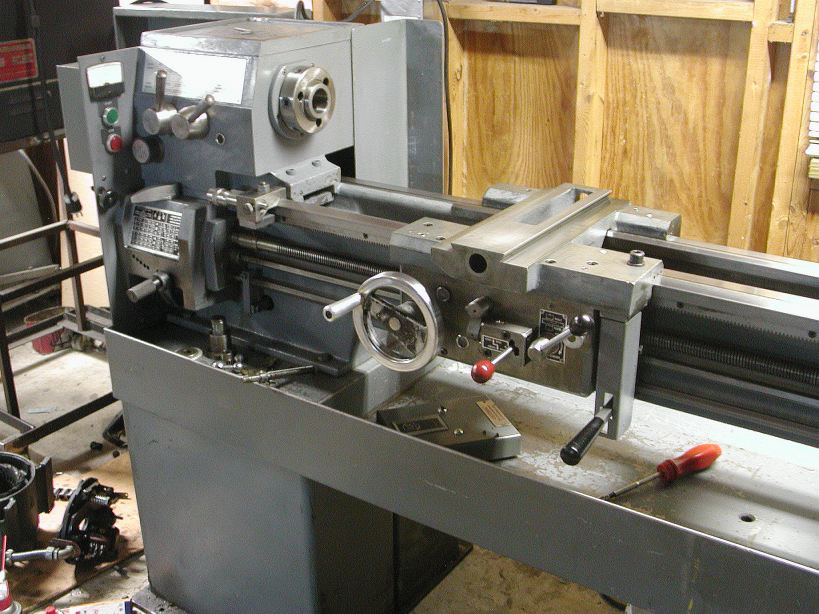 Getting cleaner and coming together :-)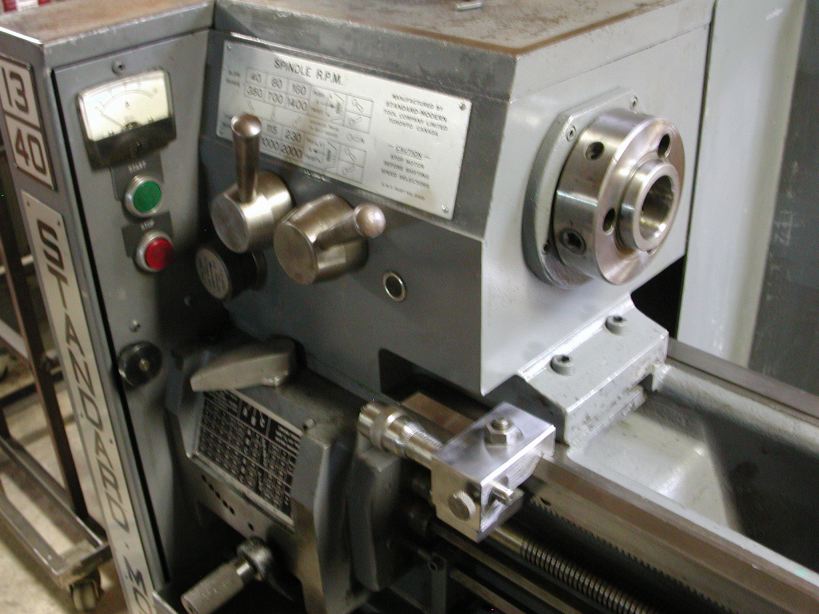 After a clean and relube I reinstalled the micrometer carriage stop.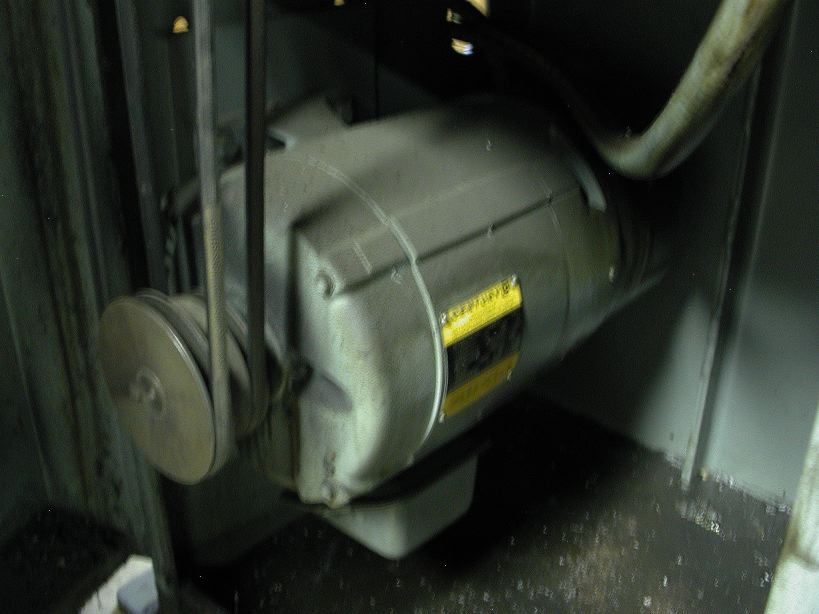 Not the best picture but you get the idea. There it is, a hundred pounds of dirty three phase motor with a bad bearing in the back of a hole :-(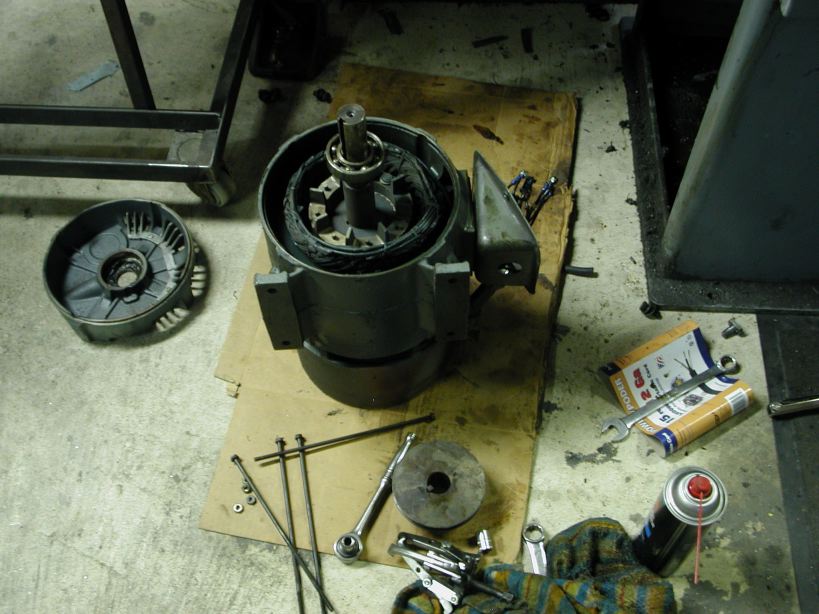 After removing the motor I pulled the pulley and the front bearing from the armature. The shaft had turned slightly blue from the heat. The bearing had spun on the shaft but I knurled it and it tightened up nicely with the new bearings in place.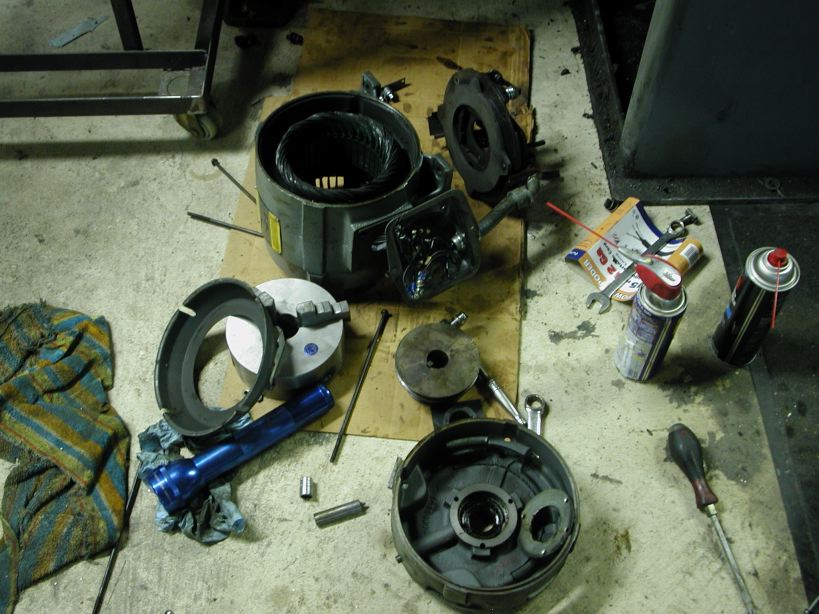 The 1340 motor is a 3hp with a braking unit on the rear. When you turn it off it stops the armature and therefore the spindle and chuck from spinning. The back bearing was OK but I upgraded both to grade three bearings.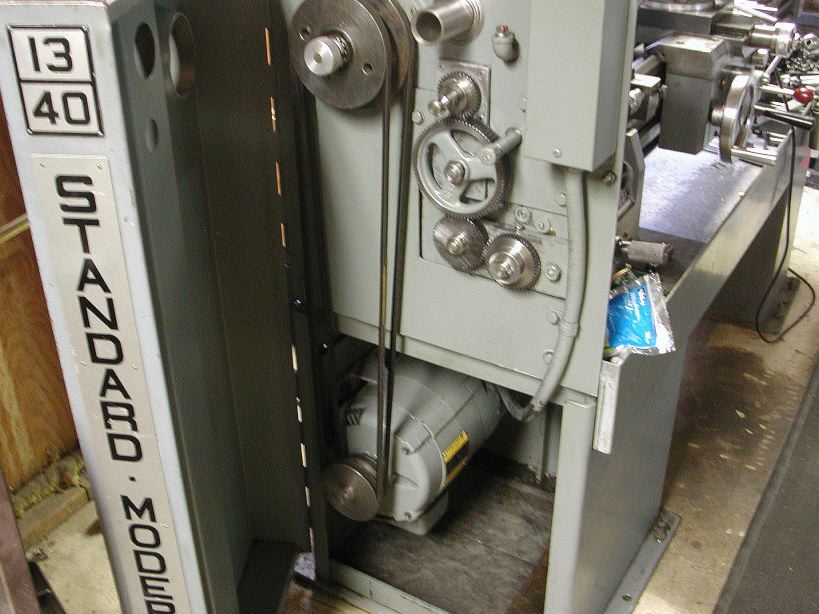 This is after the motor has new bearings and the back of the lathe has been cleaned up. The top pulleys on the belts allows you to lock in the low and high range by pulling or pushing in that knurled aluminum knob and turning it until it locks. You can do this without opening the cover. It's a nice touch the the 1340 has.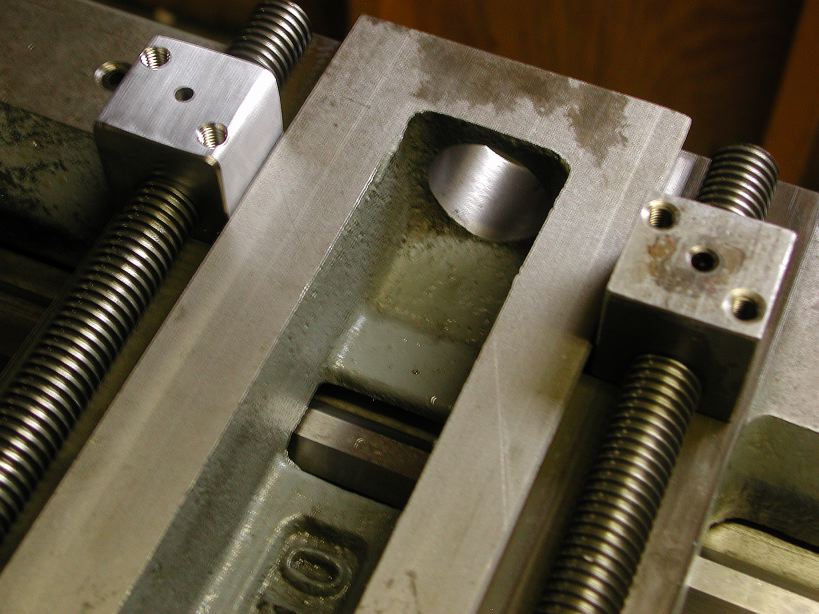 I made the cross feed screw out of 4140. I had some 1018 in the right size for the nut so I would have to case harden it. It has a left hand 5/8-10tpi. I used a four jaw on the 1440 to thread it. This is a side by side shot before hardening. I wish I had a taken a shot of making the nut.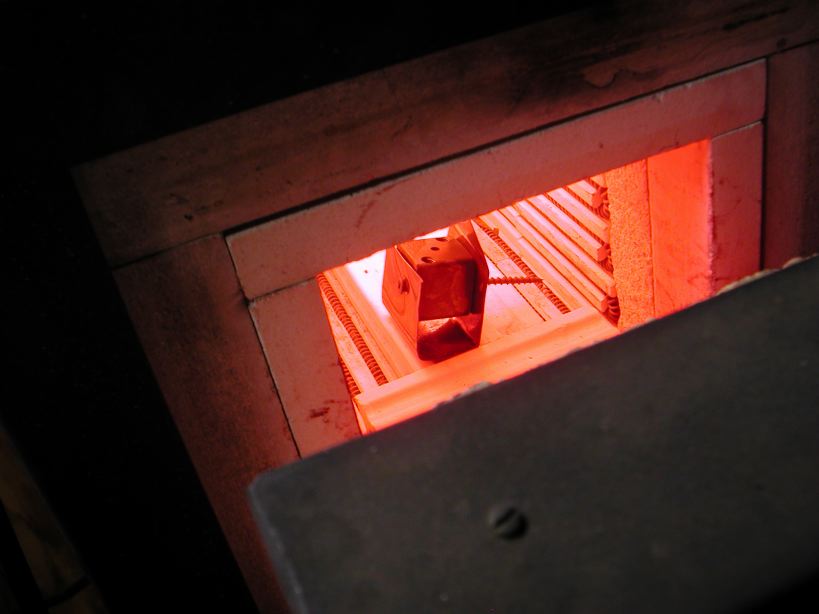 This is my low rent version of a crucible ;-) Don't laugh! I packed the ID of the hole with Kasenit and used the stainless to hold it in. I cooked it at 1650 for about a half hour. The Kasenit actually leached over the entire part. After quench a file would just dance off it.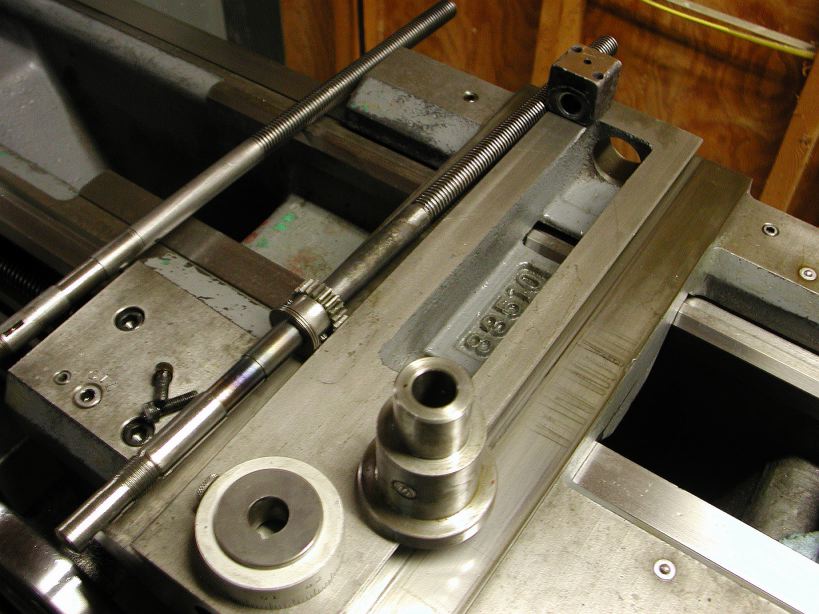 The new 1440 feed screw and half nut after heat treatment. The threads were left on the tight side and hand lapped. The cross slide now has less than .002 backlash!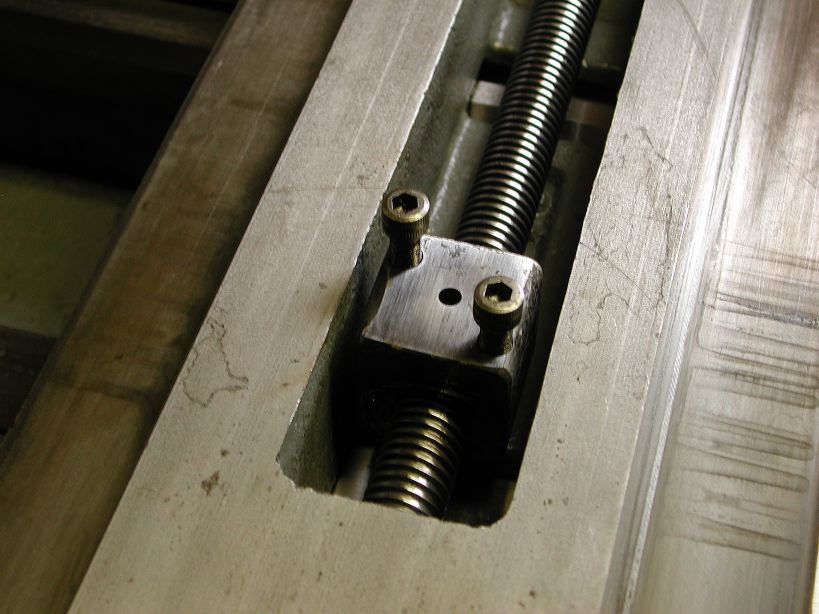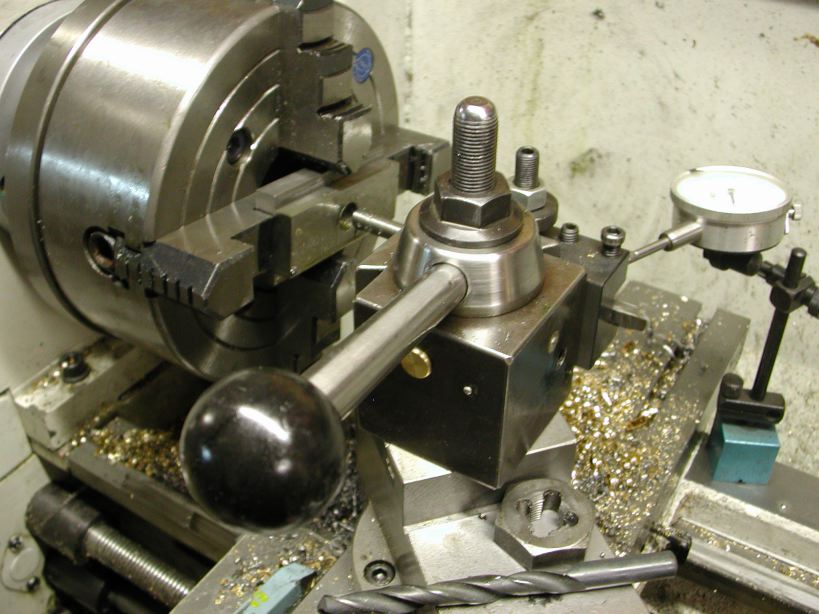 After milling out a T-nut for the compound the internal threads were cut on my old 1440 with a four jaw.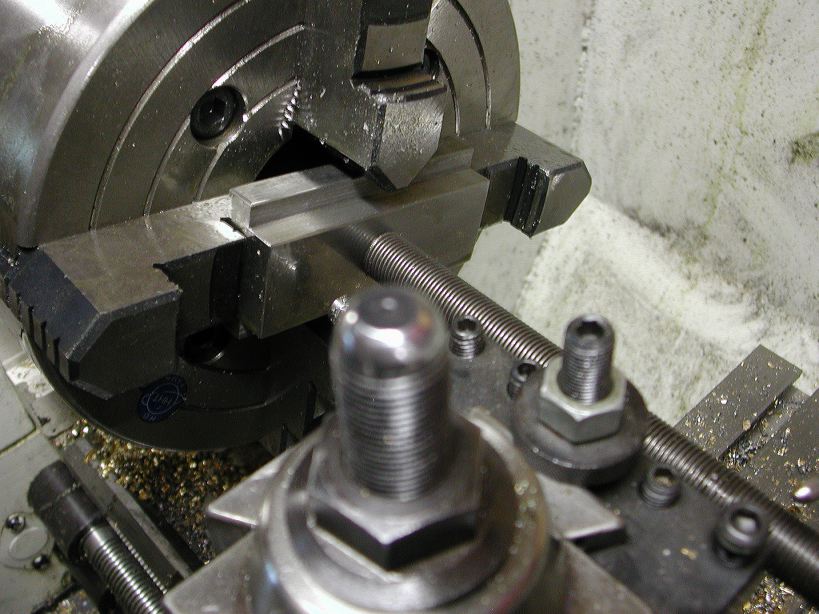 5/8th 18tpi bolt for Aloris tool post. Just checking the fit before taking it out ;-)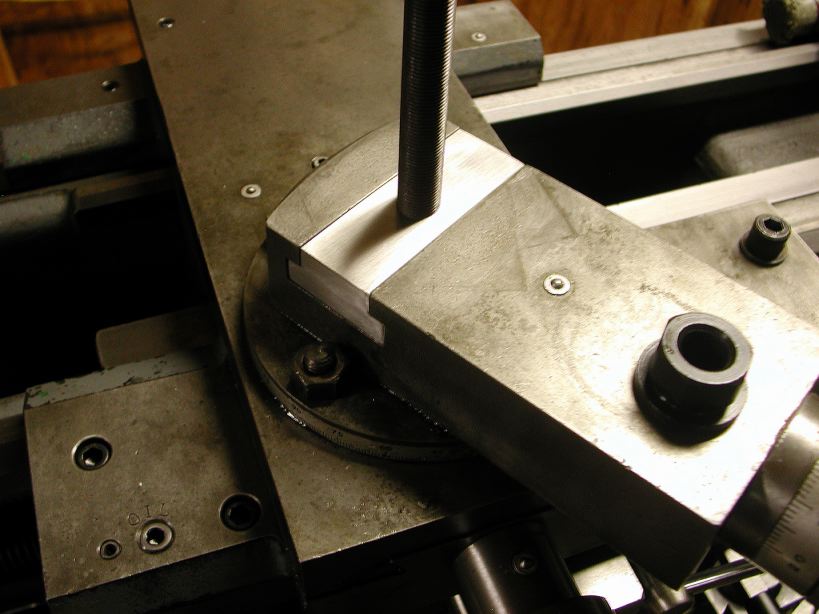 .002 slip fit. It had a very slight tight spot toward the back side. I actually had to lightly tap it in place with a rubber mallet.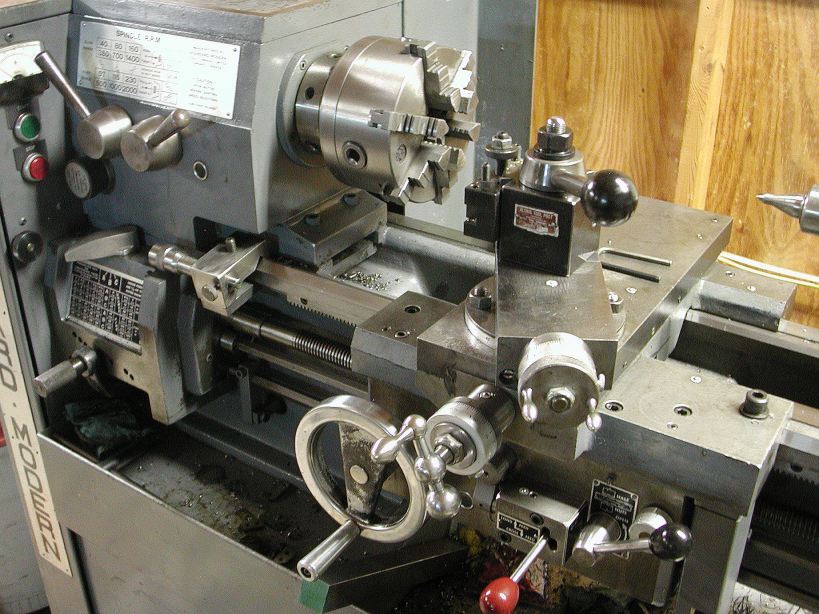 Making chips! I mounted my six jaw from my other lathe in order to turn the extra t-bolt for the right side of the compound. This shot was taken right after making it and installing it. It was made from 1045. I had some on hand but 1045 is notorious for not cutting as smooth as 4140. I ran the speed up and used carbide. Came off looking like chrome and parted of like it was feeding itself in! Very rigid, smooth and accurate lathe :-) Yes, I stole the nut off the carriage stop but have since replaced it <G>



This is a boring bar holder I converted to a tool post grinder. I made a full length 954 bronze split bushing and a 4140 shaft. The stone is held by two set screws set 90 degrees apart. I used to true up the back of receivers with it but it never worked well for blind hole work. This set up is what ultimately pushed me into up-grading to a Sunnen hone. Works great for truing chuck jaws though. After grinding, taking it apart and cleaning and re-installing it, I'm running .0006 run out on a centerless ground rod.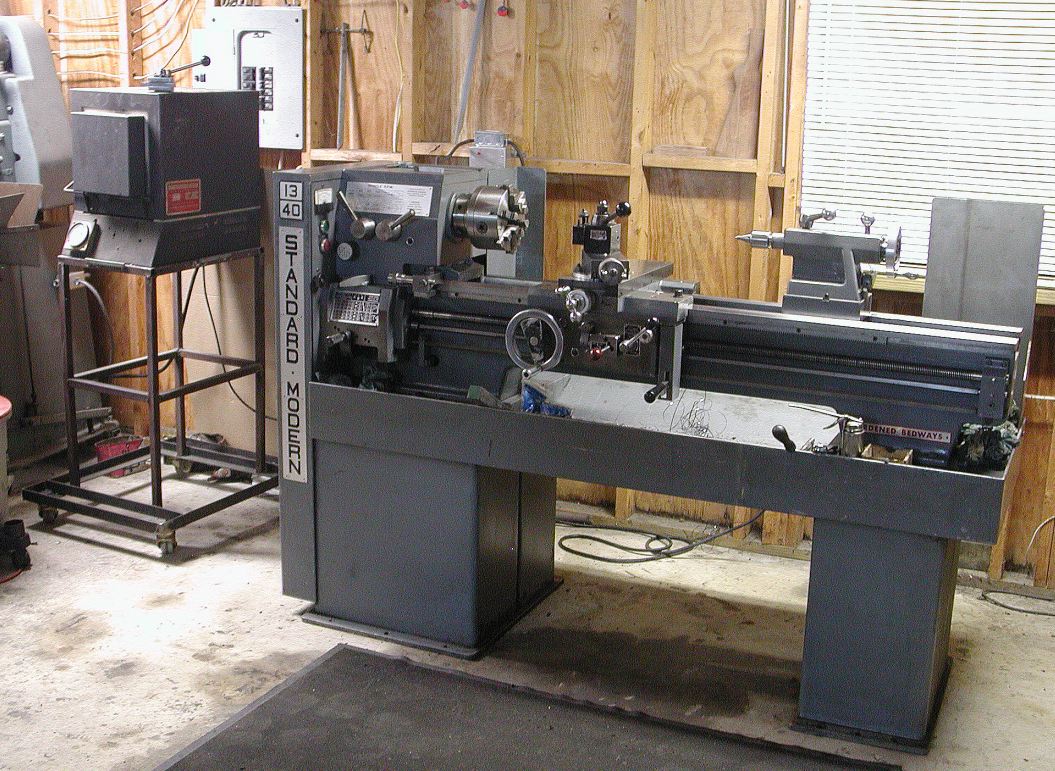 Back in service after years of neglect. The serial number is 7144. Don't know when it was made. I found a reference on one web page that said a 8000 serial number was made in 1974 so it's pretty old. It says a lot about the build quality of Standard Modern lathes. From the looks of things when I had it apart it hasn't seen a oil can since it left the factory. The gears in the apron run in a oil bath and though it's not easy to see the cross slide and apron is way way bigger than asian built machines of similar size. No deflection of the tool bit or cut off blade. The US and Canadian military are their primary customers. That says a lot about the build quality of their lathes.

Since this picture was taken I installed the leveling screws in the base and got everything dialed in. I'm back in business making parts again. I just finished making up about fifteen spring kits for various rifles. Time to start getting spring guns out the door!

Many Thanks for looking!



Paul Watts



Back To SpringGunning


Got tired of using generic tool holders for different size tool bits and I'm also doing some color case of some rear peep site parts so I did a couple of tool holders to test the waters to see how it would come out. This is the first run of parts. I was pretty happy with this being the first run. I didn't do much polishing this being a tool post holder. Polished parts come out much more refined.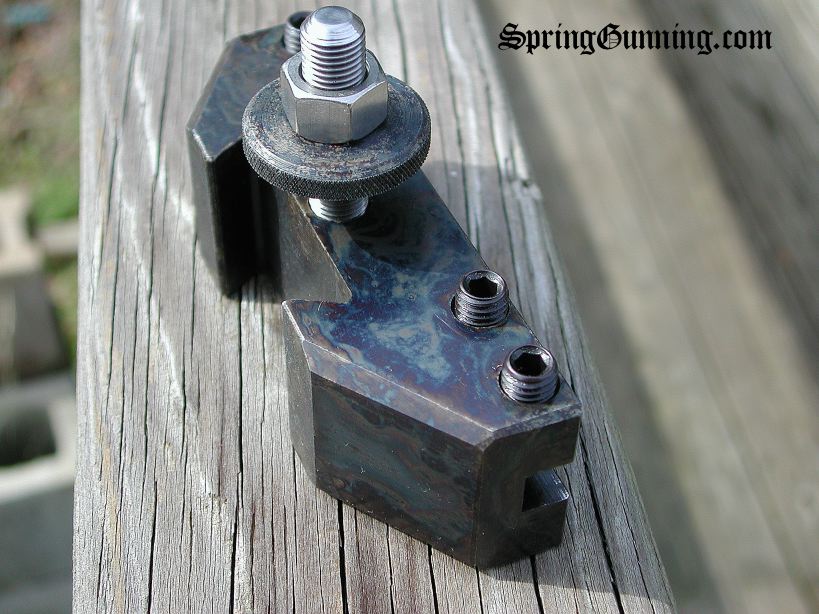 I've since had the bed reground and did a more complete rebuild. Upon a complete tear down I replaced all the seals and o-rings. There wasn't much wear on the lathe. It only took .005 to clean the bed up. Schmiede in Tullahoma, TN did the regrind and machined the saddle for Turcite and scraped it in. The headstock was pretty much on but I did have a little extra work scraping the tailstock to alignment. If I have time I'll do a short video on a slight upgrade to the tailstock adjustment. I've also been able to pick up all the accessories that were missing with the lathe originally, including the follow rest, 5C collet closer and taper attachment. Just haven't got around to installing it yet :-(

Here's a link For Schmiede Corporation. Great folks to deal with!

http://www.schmiedecorp.com/